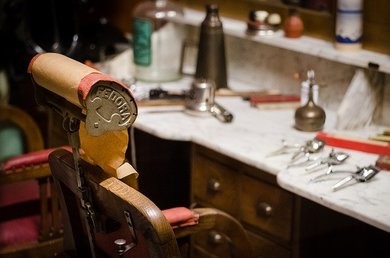 Wrexham hairstylists to offer "quiet hour" to support customers with additional needs
Wrexham hairstylists to offer "quiet hour" to support customers with additional needs
By Steve Craddock – Leader Live
WREXHAM hairstylists are to start offering a "quiet hour" to support customers of all ages who have additional needs.
Mens and womens hair and beauty salon Gozo Men, in St Georges Crescent, is to offer the first quiet hour on March 3 - then every first Tuesday of the month thereafter.
The appointment-only scheme will see the shop closed to prevent people coming in and out, as well as the music and lights turned down to create a more calming setting for customers who have anxiety, autism or other additional needs.
Stylist Sadie Burton's 4-year-old son Parker was diagnosed with autism in 2018.
She told the Leader she believes the quiet hour will be of benefit to many parents, explaining: "We came up up with the idea because we're all connected to children and people with additional needs in some way, shape or form.
"My little boy has autism - he has meltdowns.
"For families like mine, it's such a big thing to be able to go about our daily lives going to places like supermarkets, shops and for hair cuts.
"Everything has to be planned, so it's nice to be able to go somewhere that understands."
Miss Burton, aged 26 and of Garden Village, added: "People with additional needs can have sensory issues, so it can be quite traumatic for them to have their hair cut.
"It can be that they don't like the feel of the hair on them, loud noises, the lights, the smells, other people - so you have to take it all into consideration.
"But we can do simple things like instead of spraying their hair with water, you spray your comb so it isn't too much of a sensory overload for them.
"I also have a communication board so I can tell my son what to expect.
"We're going to do that here and we have a sensory basket with different toys in as well."
Explaining how she became involved in the scheme, 24-year-old stylist Harriet Byrne said: "My mum works with children with additional needs. For about two years when I was in college I would volunteer with her.
"It was different, and very rewarding.
"We are the only barbers in Wrexham that we know of which is going to start offering this.
"It will let them feel safe and comfortable in the environment without being judged.
"We are being supported by the charity Dynamic and the National Autistic Society Wrexham."
Miss Burton said she hopes other local businesses in the town will see the benefit the scheme offers to customers and follow suit.
Also starting next month, the salon will be offering a quiet hour in its beauty room on the first Monday of each month.
Quiet hours in both hair and beauty will run from 3pm to 4.30.
Gozo Men manager Sharon Murphy told the Leader: "I fully support it. It's something that is close to my heart and I know we have clients that will benefit from this."
https://www.leaderlive.co.uk/news/18238146.wrexham-hairstylists-offer-quiet-hour-support-customers-additional-needs/