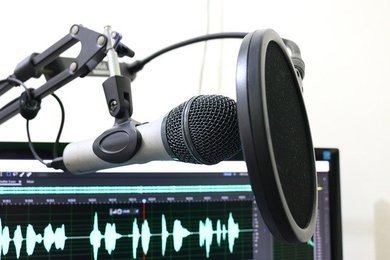 Podcaster Jessie Ace on why she wants to empower people with chronic illnesses
Podcaster Jessie Ace on why she wants to empower people with chronic illnesses
Story on: MS Trust
Jessie Ace is the host of the DISabled to ENabled podcast, which aims to inspire those living with chronic illness. Here she writes about her MS diagnosis and why she's determined to turn it into "something positive".
'My arm has gone dead.' Not the worst thing in the world you may think, but for me, it meant my life changed forever.
I was 22 and had been working non-stop day and night to complete my university degree. I'd also been working hard setting up a business in my second year because the promise of a job after seemed pretty slim.
I had huge plans for when I left university. I was going to start my brand new career as an illustrator; designing anything that could hold a pattern or character. I had big dreams of everyone owning something with one of my designs on it. I'd managed to get a book deal for when I left, an agent to represent me at major trade shows around the world and I even had my work already stocked in some boutique stores while I was still at university! I was so excited.
All I needed to do was to finish university and start the new life I'd worked so hard to build. Pretty easy right?
But life never entirely goes as you expect it to really.
The morning of my last day at university – typically the very LAST day – I didn't quite feel 'right'. I'd been working to exhaustion most days so the fact that the left side of my body had gone weak, numb and wobbly sort of made sense to me. I was just stressed.
Wrong.
It was still numb and weird after a week, so my boyfriend begrudgingly dragged me to the GP's office for an appointment. Nothing could be wrong, though, I was 22. I was perfectly healthy and had never, ever gotten sick; I was just exhausted and stressed, that's all.
When the doctor announced, she thought I'd had a hemiplegic migraine (which causes localised weakness and numbness) it made total sense.
"It'll probably come back in a few weeks", the doctor told me.
'Told you there was nothing to worry about!' I declared to my boyfriend.
After coming out of the hospital, a week later with a diagnosis of multiple sclerosis; I thought my life was, indeed, over. What the heck was MS?
Little did I know that an hour later, that feeling - and the diagnosis for that matter - would completely change.
My phone rang just as I'd gotten home. It was the doctor. She'd been talking with a colleague, and together they came up with the idea I could have had a stroke.
She ordered me to go to A&E at the hospital, right now.
'Oh my god'. I reacted.
A stroke?! I thought she was crazy, but at the same time, I'd been working so hard that it made sense, plus it meant it had already happened right? So it couldn't possibly get worse from here.
It got worse.
After coming out of the hospital, a week later with a diagnosis of multiple sclerosis; I thought my life was, indeed, over. What the heck was MS?
The illustration business I'd painstakingly built up over the last two years was taken away practically overnight due to the lack of strength in my hands and inability to hold a pencil*.
My university degree that I'd poured everything into for the last three years? That felt invalid.
Everything I knew was gone.
My life had gone.
I was gone.
It took a good few years to accept my diagnosis. A good few years of feeling sorry for myself, blaming myself for not looking after myself more. Always complaining, "Why me?!" or "What did I do to deserve this?" People that I was friends with no longer wanted to know me. They didn't understand what MS was. Neither did I.
"What do I do now?" I thought.
I've got to turn MS into something positive.
I decided to use it to help others to understand the condition and to help inspire other people to know that their life is not over, in fact, I wanted to tell them it's only just beginning.
Firstly, I created the ENabled Warriors(link is external). An alternative, positive group, to help people who are young and newly diagnosed. I hated the way support groups online were full of horror stories and negative posts. I had a negative experience going to an MS group when I was first diagnosed and can understand why there are not more young people going to these.
I started blogging for the National MS Society, MS Society, and MS-UK plus others who each encouraged me to get back into illustration – I was very hesitant in case losing my hands happened again.
Most importantly, I wanted to bring people with chronic illnesses together to share their empowerment stories. I created the DISabled to ENabled podcast(link is external) and have interviewed people such as CEOs, famous radio DJs, even Paralympians, and Ironmen!
But it wasn't easy to get to this stage. At the start, I had zero confidence. I couldn't hold a conversation - I didn't know how! For years I'd been quiet and un-confident with who I was. I didn't want to live that way anymore; I wanted to be the confident person in the room, the one not afraid to speak to anyone. Over time I taught myself to be confident. I taught myself to manage my anxiety. I taught myself to manage my symptoms (without extra meds). I want to pass on what I've learned to others.
I have far more of an appreciation for life now. I appreciate how good it feels to type with two hands when I can and to be able to take my dog for a long walk in the sunny woodland — listening to the birds chirping in the trees and the fresh early morning air against my face.
My eyes finally see what is around me for the first time and it's opened my eyes to how inaccessible our world is and how society judges people who are differently-abled. I believe it's us with these conditions who have to speak up, educate others and share our stories.
I am grateful for everyday that I have multiple sclerosis.
(*A few weeks after my initial diagnosis, I lost the use of my right hand too, leaving me unable to hold a pencil)
https://www.mstrust.org.uk/news/views-and-comments/podcaster-jessie-ace-why-she-wants-empower-people-chronic-illnesses