A woman prevented from seeing her mother in person for 10 months due to virus restrictions says she fears her absence hastened her mother's death.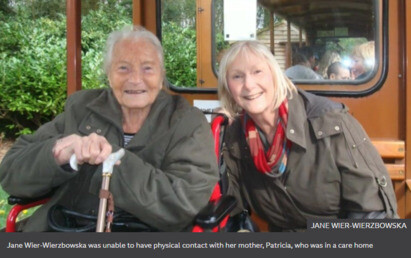 Jane Wier-Wierzbowska's mother, Patricia, had Alzheimer's and was in a Gloucestershire care home where she died with Covid-19 in January.
The Gloucestershire Care Providers' Association said care homes had to shut their doors as per government guidance.
The government said it had to take measures to reduce virus transmission.
Mrs Wier-Wierzbowska, from Cirencester, said the last time she held her mother's hand was on 16 March 2020 before coronavirus restrictions made that impossible.
She said: "I just hate the thought that she was isolated from us for all that time.
"To not have the reassuring presence of someone that she knew and loved with her made it all the more difficult."
On 4 July the government relaxed the rules for meeting in public.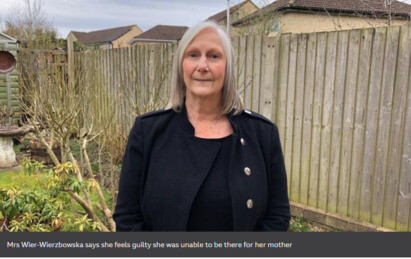 The advice at the time for care homes was they should remain closed to visitors, a decision that Mrs Wier-Wierzbowska said left her "utterly distraught".
She supported a campaign, backed by charity One Dementia Voice, that called for relatives to be classed as key workers in order to see their loved ones safely.
But restrictions meant she could only video call or see her mother through a window.
"There were so many hesitancies, so many omissions, inconsistencies in everything [the government] seemed to do," she said.
"I felt so helpless. I have feelings of guilt and distress that my absence is what caused her rapid decline and ultimately her death."
'Withdraw that love'
Riki Moody, from the Gloucestershire Care Providers' Association, said: "Unfortunately throughout the last 12 months, [the case] is fairly typical.
"We were - as the care providers - told in order to reduce the risk of Covid getting into care homes, we needed to close the doors.
"I don't think any of us would ever have planned this pandemic at all and we certainly wouldn't have wanted to withdraw that love and physical contact for individuals at all."
The Department of Health and Social Care said it understood the "very real consequences of loved ones being separated", but it was doing everything it could to allow safe visiting.
"For the safety of staff and residents, it has been crucial to strike a balance between reuniting families and preventing transmission from Covid-19," it said.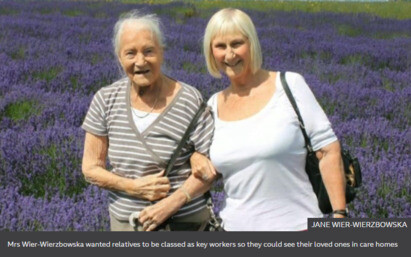 "Our latest guidance allows a named visitor indoors for every resident, alongside outside visits and behind screens.
"We are clear we expect all care homes to do what they can to follow our guidance - visits in exceptional circumstances, including end of life, should always be enabled."