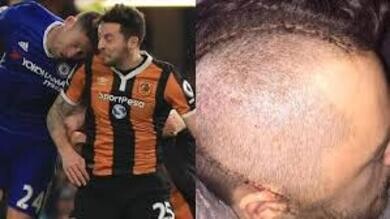 Ryan Mason: I almost lost my life and football still isnít taking head trauma seriously
Senior Football Correspondent
Thursday 10 December 2020 09:26 Published in the Independant
The fractured skull suffered by Raul Jimenez has Ryan Mason sending strength and best wishes to the Wolves forward and his family, with the incident giving the former football flashbacks to his own experience with the same injury.
He was operated on 61 minutes after the incident, with 14 metal plates inserted into his skull and 28 screws holding them in place as well as 45 staples.
"I was so, so lucky to stay alive. It was very touch and go and I almost lost my life," he told the Between The Lines podcast.
"And I would like to say a lot has changed since then on the football pitch, but it actually hasn't which is probably why I'm so passionate talking about it now, because obviously Raul has suffered a similar incident.
"I could have a list of so many things that actually affected me for so long afterwards, and sometimes I forget, so I've got it all written down. I was sleeping for like 20 hours a day.
"I couldn't really hold a conversation. When the brain gets an injury, the body just instinctively responds and it almost shuts everything else down because the main focus is on making sure the brain's ok, because it is fundamental to how we live as humans. The body invests so much energy into recovery."
Dr Willie Stewart, the neuropathologist who proved football's link with dementia, also contributes to the episode. He is frustrated by the game "trying to reinvent the wheel" instead of following the template of other sporting codes that have stronger protocols for head impact.
"I think it's damaging to players because the best evidence on how to manage it is already established," he says.
"Why is football not taking that on board? This problem is bigger in the game than it is in American football, possibly even than it is in boxing."