Birdie Evo Compact Mobile Hoist
The new Birdie Evo has been designed a high feature-set of options with new technologies to provide maximum comfort and security when lifting or transferring a patient to or from a bed, chair or even the floor.
The Birdie Evo can be folded and unfolded easily without the need for tools.
Lightweight 31kg making it easy to transport and store.
150kg max user weight.
Key features
Impressive lifting range - ergonomic lift that enables the patient to be easily rotated 360º making positioning much easier.
Maximised space for the client - optimised space in front of actuator reduces injury to the knees.
Lightweight and easy to fold for transportation and storage.
Smartlock quick release mechanism allows you to change the spreader bar quicker and more safely - no tools required.
User friendly hook design so you can easily attach slings by hand.
Integrated dampener greatly reduces rocking movement.
Ergonomic push bar handles make manoeuvring easier.
Distinct curved design allows carer to maintain eye contact with the client during the transfer
Jasmine Mobile Hoist
The Jasmine Mobile Hoist is an exceptional patient hoist that is fitted with a wide-opening base which allows easy access for wheelchair and armchairs, whilst its high lifting mechanism is essential for transfers to and from elevated surfaces. With the latest control box technology, the Jasmine Mobile Hoist provides an extremely comfortable and dignified transfer with its 'soft start' and 'soft stop' functions. The highly intelligent control box also has a diagnostic system which has a service lifetime monitoring system that highlights the battery status and service condition of the actuator to ensure safe patient handling. Suitable for use by a wide range of patients this highly versatile mobile hoist has a safe working load of up to 32 stone (200 kgs). To provide exceptional levels of security and safety during lifts the Jasmine Mobile Hoist is fitted with rear braked castors. This Invacare Jasmine Mobile Hoist is fitted with a conventional hook and loop spreader bar.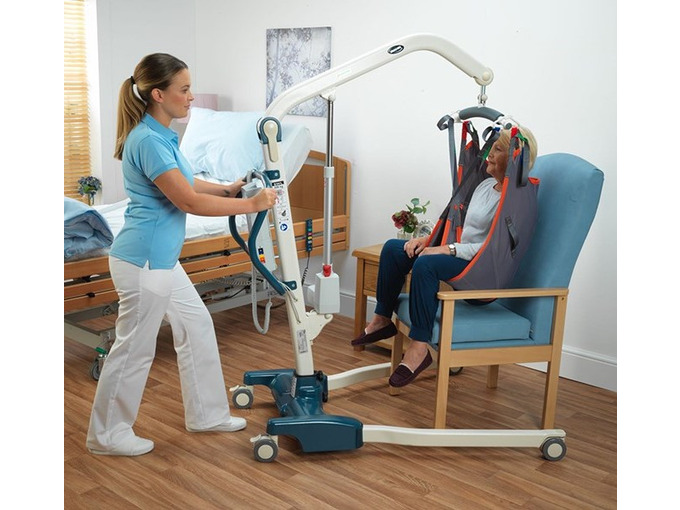 Product Specification:
Ideal solution for Acute and Residential care
Offers high levels of comfort for all clients
Expansive, wide-opening base allows for easy access to wheelchairs
High lifting mechanism is essential for transfers to and from elevated surfaces
Easy to manoeuvre and position
Latest control box technology
Soft start and soft stop functions offer comfortable transfers
Braked rear castors
Minimum lifting height: 540mm (21.25")
Maximum lifting height: 1920mm (75.5")
Minimum leg width: 690mm (27")
Maximum leg width: 1050mm (41.25")
Overall length: 1340mm (52.75")
Maximum user weight: 200 kgs (32 stone)
Total weight: 40 kgs (88 lbs)
With many hoists to choose from and a huge selection of slings available there will always be a perfect combination for every person.